Welcome
Are you worried that you won't have enough money in retirement?
Are you willing to learn a few new skills and use what you already know?
CreativeBoomer is devoted to empowering women over 50 with the tools to create a passive income to live your dreams without financial worries in retirement.
On this site you will find easily understandable and do-able strategies for making an income online while doing things that matter.
If you don't know where to start, click here for a MindMap and Checklist to help you get started.
If you want to start creating an additional income for your retirement, you need to become comfortable creating things in the online world. None of us grew up with these technologies so somethings you just need a liitle help and guidance to become comfortable in this online tech-world. That's what the CreativeBoomer website is here for.
If you don't know where to start, click here for a MindMap and Checklist to help you get started.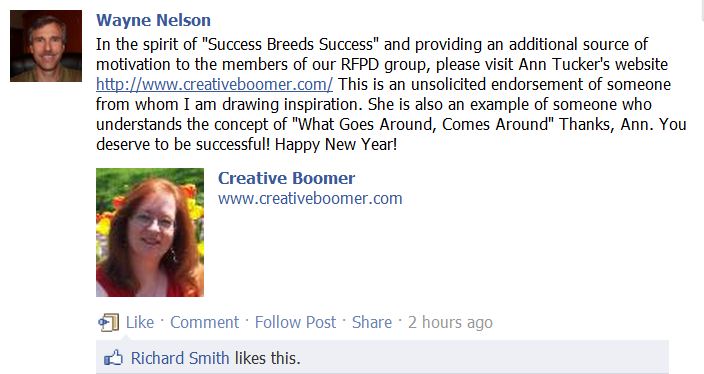 Unlike our parents' generation, many of us will not have a pension when we retire. Couple that with Social Security saying you can't retire until well past 65 and your house is worth so much less than what you owe on your mortgage.
If you're like me, you're ready to start enjoying the second half of your life. And at the moment, your financial future is looking bleak or shaky.
Not at all in shape for you to start enjoying yourself the way you'd like to.
These are all things that should have put you in a good financial place by now. But that didn't happen so…
We need to change the rules for us.
You have decades worth of experience.
Think of how many times you've easily taught the new person the ropes at work. Or think of how many times a friend asked for your advice on a topic she knows you're good at.
You DO have a wealth of experience that could help other people.
This is experience that other people will pay you to tell them!
Is learning to write and sell an ebook worth enjoying the second half of your life spending more time with loved ones without having to worry about your finances?
Writing an ebook is just one more new skills in a life filled with learning new skills.
Do you remember learning to type your school papers on a manual typewriter?
Using a microwave oven for the first time?
Sitting down in front of your first computer?
Growing up, we were told we could do and be anything we wanted.
Why would learning yet another new skill, stop us from having financial freedom?
It's not stopping me.
What about YOU?
Is your financial future worth learning a new skill?
Wouldn't it be great if there was one piece of paper that could tell you very simply:
What the steps are
What order to do them in
What to use
This Mindmap does all of that!
It helps you know what you don't know. It gives you an overview so you can see what you need
and not forget anything important.